Ballkleid Schmuck bei Juwelier Wempe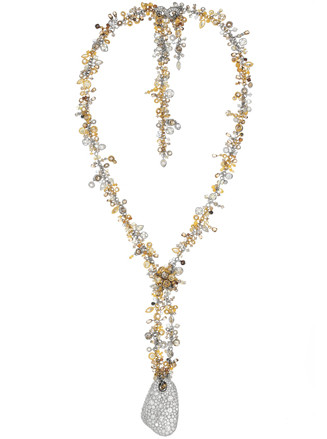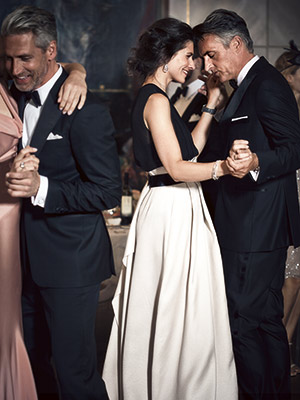 Schmuck zur Abendgarderobe
Es sind die besonderen Momente im Leben, die es einzigartig machen. Geburtstage, Hochzeiten, aufregende Reisen, noble Abendveranstaltungen. Kostbare Momente sind oft Resultat zeitintensiver Vorbereitung und Handwerkskunst, das wird oft unterschätzt.
"Nur wer sich die Zeit nimmt, kann einen Sinn für Qualität entwickeln."
Kim-Eva Wempe
Schmuck kann ein Leben lang begleiten, und in vielen besonderen Augenblicken. Im Juwelier online Shop von Wempe gibt es zusätzlich die Möglichkeit, Ballkleid Schmuck selbst zu gestalten – von schlicht bis opulent. Das reicht vom Kombinieren vieler Ketten, verschiedener Elemente und Anhänger bis zu der persönlichen Anfertigung im Atelier.
Die jüngste Erfolgsstory des Traditionshauses Wempe ist eine romantische: Zehn Jahre ist es her, dass Kim-Eva Wempe von der Münchner Schmuckmesse mit leeren Händen ins Hotel heimkehrte, im Restaurant auf Alfred Baumhauer stieß und ihm beherzt ihr Leid klagte: Auf der ganzen Messe hatte sie nichts gefunden, was ihre Kunden begeistern konnte. Selbst das Angebot der Traditionswerkstatt L. C. Köhler, bei der Alfred Baumhauer Teilhaber war, machte keine Ausnahme. Das darauffolgende Gespräch ging als Geburtsstunde der Marke BY KIM in die Geschichte ein. Viel ist seither geschehen, doch eines hat sich nicht verändert: Alfred Baumhauers Sinn für klare Worte. "Wir haben geheiratet", sagt er zur Begrüßung im Schwäbisch Gmünder Atelier und gibt damit zu wissen, dass Wempes Erwerb des Fünfzig-Prozent-Anteils von Köhler am Unternehmen viel mehr als eine finanzielle Investition ist.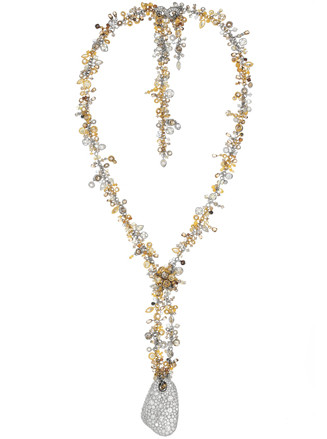 Wempe Colliers – bedingungslos modern
Lebendig wie ein Gebirgsstrom reihen sich die beweglichen, teils wie Kugellager verarbeiteten Steine aneinander, stauen sich zu an Platin-Stiften baumelnden Beeren, verzaubern durch Navette-, Briolett- und hier und da durch den in Vergessenheit geratenen, wunderbar altmodischen Rosenschliff. Der Facettenreichtum seiner Elemente verleiht dem Collier etwas vom Charakter eines Aborigines-Amuletts, das alles enthält, was zur Natur gehört. Auch der indianische, federbehangene "Traumfänger" stand ihm Pate, den sein Träger mit kleinen Fehlern knüpft, um die Götter nicht zu verärgern. Besonders der Brillant-Anhänger Cosmos gleicht einem Talisman, einem ständigen Begleiter. Sein Gewicht entspricht dem eines Kieselsteins. Er ist haptisch angenehm, solide, beruhigend, konkav: mit dem Daumenabdruck des Schöpfers versehen. Bei aller Fetischfähigkeit ist das innovative "Rocky-Setting" der 461 Brillanten von zusammen 23,48 Karat, das in seiner rhythmischen Unregelmäßigkeit an die Vorsprünge einer Gebirgslandschaft erinnert, unbedingt modern. Denn seine Einflüsse reichen von der Steinzeitfrau bis zum Rock 'n'Roll. Die Designerin machte den Beatles-Song "Lucy in the Sky with Diamonds" zu ihrem Motto und widmete das Collier damit der schönen Freiheit und der unbeschwerten Phantasie: "Man sollte es auch zu Jeans tragen können!" Denn sein Glanz gehört der Lebenslust bei Tage nicht weniger als den Geheimnissen der Nacht.
Fotocredit und Infos www.wempe.de
Weiterlesen: Meissen Couture Abendkleider